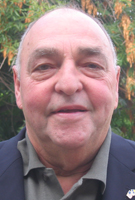 Rollin Binzer has a unique range of creative experience as a cartoonist, animator, designer, art director, advertising executive, author, documentary film-maker, marketing consultant and entrepreneur.
As a 16 year old cartoonist he started his own greeting card company, Kardko, producing a line of sarcastic and unsentimental cards that achieved national distribution and annual sales of $5 million by its fourth year in business. The company was sold to Gibson Greeting Cards.
Working on TV commercials led him to Chicago and into the advertising business.  In 1964, after working in advertising agencies for a few years and spending time in the U.S. Marine Corps, he co-founded Hurvis, Binzer & Churchill, as Chairman and Creative Director.  Quickly developing a reputation for creative and highly effective advertising, packaging and new product introductions, the agency grew from zero to $25 million in billings.  Some of the agency's most well known product introductions were Screaming Yellow Zonkers for the Ovaltine  Company, Pine Mountain Logs, Celeste Frozen Pizza and Award Winning album covers for Chess Records artists Muddy Waters, Howlin' Wolf,  Bo Diddly, & Chuck Berry. The agency was sold to Bozell, Jacobs International in 1970.
Binzer then moved to New York where he wrote, designed and published "The Information Environment" which sold more than 500,000 copies.
From 1972 to1974 Binzer worked with the Rolling Stones as Director and Co-Producer of their classic concert film, "Ladies and Gentlemen: The Rolling Stones."
Over the course of his career, Binzer has received more than 300 awards of excellence, gold medals and citations from The National Society of Illustrators, CA Magazine, Graphics Magazine and the Art Directors Clubs of New York, Chicago, Los Angeles, Boston, Dallas, San Francisco and Detroit.  He is three time winner of the AAPI "Package of the Year". Three of his poster designs are in the permanent collections of the Museum of Modern Art and the Smithsonian Institute. Binzer has been a guest lecturer at the Chicago Art Institute, Harvard Business School and The MIT School of Visual Language.