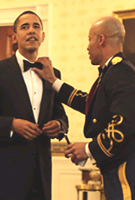 Major Gregory L. Canty currently serves as the Executive Officer to the Directorate of Healthcare Operations in the Office of the Surgeon General in Washington, D.C.  He concurrently holds a position at the White House Military Office as the senior Army White House Social Aide and has served in this position for 4 years under the administrations of President George W. Bush and currently, President Barack Obama.  He was hand-selected to serve as the Officer-in-Charge of the Presidential Platform at the U.S. Capitol at the most recent Presidential Inauguration.  Prior to his current assignment, Major Canty served at the Pentagon as the Office of the Surgeon General Operations Staff Officer.
Major Gregory Canty is a native of Chicago, Illinois and a graduate of Providence-St. Mel High School.  He received a Reserve Officer Training Corps (R.O.T.C.) scholarship and was commissioned a second lieutenant upon graduation, with a Bachelor of Science degree in Business, from the University of Tampa in Tampa, Florida.  He holds a Master's degree in Business Management from Webster University. 
Major Canty has served in numerous positions of great responsibility.  As a soldier he has served as an Administrative Specialist at Headquarters and Headquarters Company, 543rd Area Support Group in Bremerhaven, Germany and the 5-9 Cavalry at Schofield Barracks, Hawaii.  After commissioning, he served as the Executive Officer for the 232nd Medical Battalion at Fort Sam Houston, Texas; Executive Assistant to the Secretary of the General Staff; Commander, C Company, Academy Battalion; and Human Resource Officer, 61st Area Support Medical Battalion, Fort Hood, Texas; where he served one-year in Bosnia-Herzegovenia. 
Major Canty had a five-year break in military service and performed duties as an Account/Sales Manager for Ethicon Endo-Surgery, a subsidiary of Johnson & Johnson, and as an Executive Recruiter for Carrington & Carrington, Ltd., a Chicago-based executive search firm.
His military awards and decorations include the Meritorious Service Medal with three Oak Leaf Clusters, the Army Commendation Medal with four Oak Leaf Clusters, the Joint Service Achievement Medal, the Army Achievement Medal, and the Army Staff Identification Badge.